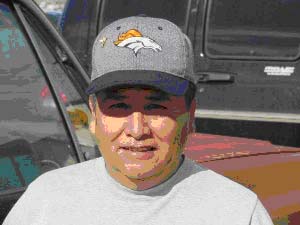 Talented goldsmith Tim Bedah was born in 1945 at Tohatchi hospital. He was born to Todacheenie (Bitter Water) clan and born for Kiiyanii (Towering House) clan. Tim's father, Edward Bedah, descended from one of the Plains Indian tribes, and his mother, Thelma Begay, is Navajo.
Tim married Marie Begay, a native of Sunrise, Arizona, and together they have four adult children: Tim Junior (Sonny), Travis, Trista and Terrence.
Tim has always had an interest in the arts, particularly in painting and music. He graduated from Gallup High School in 1965, and played guitar and drums in his own country music band after high school.
Tim learned to silversmith when he worked at the now-closed Carson's Trading Post in Gallup, NM. In 1976, Tim first learned to work gold while working for Don Mortensen Jewelers. One early highlight of Tim's career was making a gold buckle for singer Wayne Newton.
Tim has won numerous blue ribbons for his work at the Gallup Ceremonial and Santa Fe Indian Markets. Even though he is an accomplished goldsmith, most of his works are traditional in design.