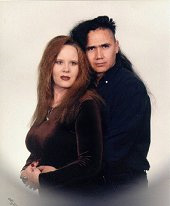 CLICK HERE TO SEE RON'S NEW ITEMS.
Ron Henry grew up in Coyote Canyon, New Mexico on the Navajo Reservation. He attended school through the 8th grade at Tohatchi School. His mother, Louise, was a talented Navajo weaver and silversmith. His older brother, Ernie, taught Ron to design and make traditional style jewelry. In 1975, the Henry family moved to Rochester, Minnesota to both make and market their jewelry. They opened a store, Chi-Nah-Bah, where Ron developed his skill as a silversmith. He designed much of the jewelry sold from the family business.
After Ron graduated from high school in Rochester, he took a job with IBM. Shortly thereafter, he had the opportunity to relocate to Tucson, when IBM opened a new plant. After a couple of years Ron decided to step out on his own and become a full-time artist. His style has evolved over the years and now is very contemporary. He uses inlaid stones and 14K gold in his heavy silver creations.
Ron is the father of three children and continues to live and work in Tucson.