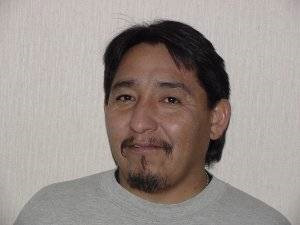 Navajo artist Peter Nelson was born to Tsinnijinnie (Blackgoat) clan and for Copah (Water) clan in 1954 at Keams Canyon Hospital. He was named Peter for the doctor that delivered him. His mother, Jeanette Nez, was taken to the hospital by an uncle (Joseph Nelson) because Peter's father worked for the railroad and was not home. Mr. Nelson signed the birth certificate, so Peter's name became Nelson instead of Nez.
Peter grew up at White Cone, Arizona, attending school at Greasewood and Dilcon. He graduated from High School at IAIA (Institute of American Indian Arts) in Santa Fe, New Mexico. It was at IAIA that he learned silversmithing, painting, and sculpture. Though he is known today as a silversmith, he still produces one painting each year.
In the early 1980's Peter met Shirley George, who later became his wife. They are the parents of 3 daughters and have 2 grandsons.
Peter has shown his jewelry at the Santa Fe Indian Market, the Heard Museum in Phoenix, and the Museum of Northern Arizona. The MNA has awarded Peter's work as Best in show several times. He also has numerous awards from the Indian Market.
Today, Peter Nelson's unique style combining traditional and contemporary Navajo styles is enjoyed by many collectors around the world. His intricate overlay designs, some that incorporate 14K gold, are beautiful and popular expressions of his art.