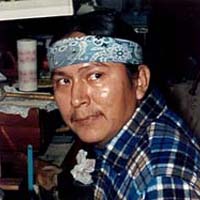 A quiet, modest, and unassuming man, John Begay does not personally sign his work. Instead he uses the MonsterSlayerTM shop hallmark - a mythical being from Navajo legend - as his signature.
Being a silversmith is John's chosen profession, something he has had to work at. He has been working at it for a quarter century and his jewelry reflect his experience and his love for his art. Each piece is uniquely his. One does not need to see the MonsterSlayerTM hallmark to recognize John's unique style and excellent craftsmanship, his pieces speak for themselves.
The son of Navajo migrant workers, John's upbringing was anything but traditional. He was born in Phoenix, Arizona, during the winter harvest months there. Until he was 12 years old, his parents lived in Phoenix during the winter and returned to their native land in northern New Mexico for the summer. While in Phoenix they lived in a community made up of Navajo migrant workers, where Christianity was a big influence. When John was twelve, they moved back home to the Four Corners area for good.
John attended high school in Shiprock, New Mexico. John's parents did some silversmith work, as did his aunts and uncles. He had one uncle who was renowned for his excellent work. John asked this uncle to teach him. The uncle wanted to be paid for lessons, but John could not afford them so he began working on his own, devising tools and methods as he went.
John's early work soon evolved into a unique style combining classic and contemporary Navajo with a Byzantine look. It has the feel of old style jewelry, and yet it is unlike anything ever before created. It is diametric inasmuch as it is detailed and intricate but still has simple lines. He has won several blue ribbons at the Gallup Inter-Tribal Ceremonials competitions, especially for his unique earring designs.
Married, with a nearly grown son, John spends most of his time working on his jewelry. As he lies in bed at night, he thinks and dreams of designs and ideas to use. When he gets an idea he has a hard time going to sleep because he gets excited about working on it, bringing the concept into reality. At the urging of many of his admirers, he has been expanding his considerable skills by working solely in gold and combinations of sterling and gold, an experience he finds both intimidating and rewarding.
Although he was raised a Christian, John has learned many things about his Navajo heritage. Now, as he does his work, he prays over it in the Navajo fashion. He says that he prays his work will go well; that he will be satisfied with it. He also desires blessings on those who represent his work and especially blessings for the purchaser of the jewelry, that they will be pleased with it, and have much satisfaction in wearing it.
John does not mass produce jewelry as many of his counterparts do. He lovingly creates each piece, all the time thinking good thoughts for the person who will wear it. This makes his masterpieces unique in many, many ways.