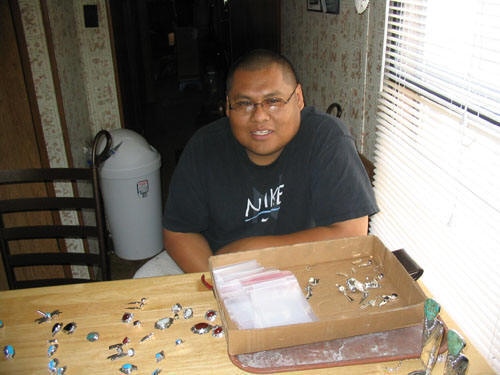 Alex has been making jewelry as long as he can remember. Growing up he was schooled and nurtured in his art by his extremely talented family. With that support and encouragement, Alex has developed into the award-winning artist. Alex's work is being shown at the Heard Museum in Phoenix, AZ.
Creativity and perfection are the trademarks of Alex's work. From exquisite stamp work to his latest works, his "Petroglyph" collection, the trademarks of Alex's one of a kind jewelry is creativity and perfection. Pick up a piece of Alex's work...you can feel the quality, you can see the artistry and you can sense the "specialness".
Alex lives in Gallup, NM with his wife Annette and their three lovely daughters, Dominque, Summer and Sheyenne.